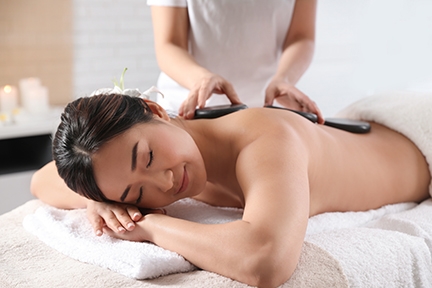 Relaxation Massage
This massage is great for those who want to focus on relaxing rather than working out muscles. Long flowing movements that help calm the central nervous system will increase circulation and remove toxins by improving lymph flow. Stretches are included depending on personal preference.
60-Minute Massage: $100
90-Minute Massage: $140
Massage Packages:
Get savings and relief when you purchase a massage package.
Three 60-Minute Massages: $270 ($30 savings)
Three 90-Minute Massages: $390 ($30 savings)
Add Ons
Full-body Hot Stone Massage: $20
Heated stones are applied to the body during the massage. This will help soften and warm the surface muscles allowing access to deeper muscles for treatment. The warmth of the stones glide over your tired muscles melting away tension.
Exfoliating & Moisturizing Foot or Hand Treatment: $20
Soothe and soften your tired feet or hands with this luxurious treatment. An organic scrub will slough off any dead skin and a hydrating body lotion will be massaged in leaving your skin feeling good as new.
Aromatherapy: $15
A hand-selected DoTERRA essential oil will be used to customize your massage experience. Whether you need to release some tension, de-stress, boost your immunity, or enliven your mood, there are many oils to choose from that will benefit you.
Intuitive Reiki Healing: $35 (15 minutes)
Reiki energy enhances the body's natural ability to heal itself through the balancing of energy and the destruction of blockages that may show up as depression, fatigue and other dis-ease. The Reiki practitioner is essentially a channel for healing energy that is transferred by specific hand placements that either hover or are gently placed on the fully clothed body.
Plant-based Paraffin Hand Treatment: $20
Enhance your massage, facial, or reiki service with a natural, eco-friendly, plant-based alternative to paraffin. This treatment includes a luscious fusion of plant oils, including jojoba, coconut, shea, and sustainable palm which will leave your hands feeling soothed and moisturized. Add this treatment alone to any service or include it with an Exfoliating & Moisturizing Hand Treatment for ultimate nourishment.
Invigorating Scalp Treatment: $20
Invigorate your scalp with a relaxing combination of DoTerra essential oils and gentle massage. Not only is this scalp treatment good for relaxation, but the essential oils used can also be effective against dry scalp, calm irritation, and help stimulate hair growth. The massage portion of this treatment will help increase blood circulation to keep your scalp healthy and rejuvenated.