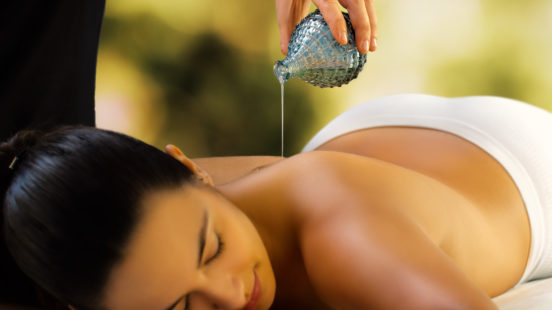 Aromatouch Technique
Do you love the natural healing and relaxation benefits of aromatherapy? If so, this is the treatment for you. The Aromatouch Technique features doTERRA, a natural oil line containing 100% pure therapeutic grade essential oils. During the Aromatouch Technique, eight essential oils are rhythmically applied along your spinal cord, hands, and feet, which work with your central nervous system, leaving you with less pain while feeling more balanced, detoxified, relaxed, stress free, and in a state of homeostasis.
30 Minutes: $45
Buy a package of 5 Signature Facials, get the 6th one free.
Add Ons
Exfoliating & Moisturizing Foot Treatment: $20
Exfoliating & Moisturizing Hand Treatment: $20
Add Ons
Full-body Hot Stone Massage: $20
Heated stones are applied to the body during the massage. This will help soften and warm the surface muscles allowing access to deeper muscles for treatment. The warmth of the stones glide over your tired muscles melting away tension.
Exfoliating & Moisturizing Foot or Hand Treatment: $20
Soothe and soften your tired feet or hands with this luxurious treatment. An organic scrub will slough off any dead skin and a hydrating body lotion will be massaged in leaving your skin feeling good as new.